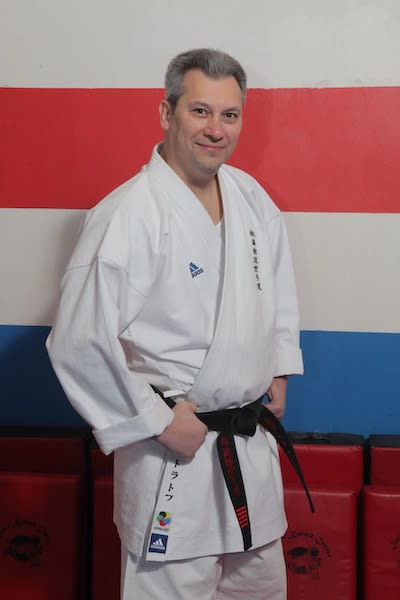 Master William Anistratov
The Luminary behind Breakthrough Martial Arts
Master Introducing Master Instructor William Anistratov, the esteemed head instructor at Breakthrough Martial Arts in Rego Park and Forest Hills, NY. With a wealth of experience and accolades, Master Anistratov is a highly skilled and decorated karate instructor.
Having personally trained over thirty national and international competitors, including US team members, Master Anistratov is dedicated to cultivating excellence in his students. His journey began in 1978 at the Shotokan Karate Institute, where he earned his first degree Black Belt in 1982. Since then, he has continued to progress, achieving a second degree Black Belt in 1984, a third degree in 1995, a fourth degree in 2005, and currently holds the prestigious rank of fifth degree Black Belt.
Master William Anistratov's competition history is illustrious, spanning a decade from 1979. Throughout this period, he claimed an impressive twenty-three medals in Local, Regional, National, and International tournaments. Notably, he was a member of the US National Karate Team at the 1985 World Games and contributed to the New York State team's gold medal triumph in 1984.
With over thirty years of teaching experience and training alongside world-renowned Martial Arts professionals, Master Anistratov brings his championship-level expertise to his students. He has developed a unique hybrid style of Mixed Martial Arts, blending Shotokan Karate with Jiu Jitsu, Judo, Krav Maga, and other disciplines.
At Breakthrough Martial Arts, our staff in Rego Park, NY, firmly believes in the potential for success in every individual who joins our programs. We foster a positive learning environment where students of all ages can benefit from high-quality training. Whether it's academics, various sports, arts and social activities, work meetings, or all aspects of life, we empower our students to excel.
Each class at Breakthrough Martial Arts is carefully designed to be exciting and high-energy, featuring age-appropriate drills. These activities aim to build strength, stamina, endurance, and develop essential life skills. We are committed to our students' happiness and strive to ensure they have a rewarding experience while learning, building endurance, and having a great time.
Join us at Breakthrough Martial Arts and embark on a transformative martial arts journey under the guidance of Master Instructor William Anistratov. Discover your potential, achieve your goals, and experience the profound benefits that martial arts training can bring to your life.